The Inkblot is your cartooning information resource. From art supplies to drawing lessons to tips from the pros, you'll learn what it takes to be a cartoonist!
If you like this ezine, please tell your friends and family about it. Remember, it's free! If this was forwarded to you by a friend, do me (and yourself) a favor and subscribe! Just click the link below:

Inkblot Subscribe Page


---
Contents:
1. Introduction
2. Apologies and Promises
3. A Bit About Brian
4. Interview with Brian Crane
5. A Final Word
---
Introduction
Welcome to another totally awesome issue of The Inkblot, the Number One electronic newsletter about Cartooning!

If this is the first issue of The Inkblot you've read, for the last several issues we've been covering all the basic tools the Cartoonist needs to do their job. We've looked into many different types of tools—such as pens, paper, pencils and erasers—and have identified which ones work best for Cartoonists.
In the last issue, we talked about how to develop your own sense of humor. These issues are full of terrific information I've personally learned through many years of drawing cartoons, so if you missed them, please check them out! You can get them for free on The Inkblot Back Issues page! Just visit https://www.coolcartooning.com/back_issues.html.
Apologies and Promises
Now, I want to start this issue off by apologizing to all of you out there. I've so far been successful at turning out one Inkblot issue per month, but this last issue has been a long time coming. However, this is a special issue which took some preparation and planning, and though it took much longer to produce than I thought, I'm positive it'll be worth the wait!

If you've been with us from the very beginning, one of the promises I've made to all of you is that The Inkblot would include tips and interviews with Professional Cartoonists! After all, if you're an aspiring cartoonist, even if you're just looking for a few drawing pointers, you can often learn as much, if not more, from a professional working in the field than all of your art college courses put together! A professional cartoonist knows how it's done, he's paid his dues, so to speak. He's learned all the tricks of the trade, and has used them, along with his own talent, to become successful.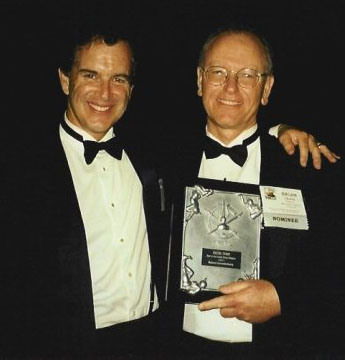 And now, at long last, I keep this promise, with our first-ever Inkblot Interview!
A Bit About Brian
Brian Crane is the incredibly talented Cartoonist behind the internationally syndicated comic strip, "Pickles". If you're not familiar with this strip, it chronicles the hilarious golden years of senior couple Earl and Opal, their daughter Sylvia, her husband Dan, and their grandson Nelson. Their house pets, a dog named Roscoe and a cat named Muffin, also put in their two cents! This one of the funniest comic strips in the newspapers today, and shows how funny life really is, no matter stage you are at. One of the best things about this strip is it's appropriate for the entire family. Brian Crane has a good, clean, dry wit that pokes fun at everybody but offends nobody. Since "Pickles" debut in 1990, Mr. Crane has won many awards, and today his comic strip appears in more than 500 newspapers all of the world!

Brian Crane was born in Twin Falls, Idaho, and was raised in the San Francisco Bay area, in California. He graduated in 1973 from Brigham Young University (BYU) with a degree in art. He worked in advertising for years, and became the art director of an advertising agency in Reno, Nevada. He retired from advertising shortly after the debut of his comic strip. For more information about Brian Crane and his comic strip, go to http://postwritersgroup.com/comics/pickles.htm.

I was introduced to Brian Crane through a mutual friend, online at Facebook, where Mr. Crane has an official page devoted to his comic strip. If you're a member of Facebook, you can become a fan of Brian Crane and view his page by signing into Facebook and typing "Official Pickles Comic Page" into the search bar. If you're not a member of Facebook, you can sign up for free at Facebook.com!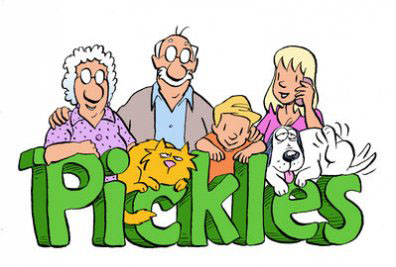 Interview with Brian Crane
Anyway, without further ado, here's the interview:

Inkblot: How did you get your start in cartooning?

Crane: I've drawn cartoons as long as I can remember. I drew some for the school paper in college. Then when I went to work in ad agencies I used cartoons in some of the ads I designed. I also began doing freelance greeting card design, using my cartoons.

Inkblot: Was "Pickles" your first syndicated comic?

Crane: Yes, Pickles is my first and only syndicated comic, and I have no desire to do any others.

Inkblot: How did the idea for "Pickles" get started?

Crane: When I was looking for a cast of characters for a comic strip I drew a sketch of an older couple, and they immediately appealed to me. They seemed like people I knew and could relate to. They also seemed to present a lot of humorous situations to my imagination.

Inkblot: Who were some of your influences for cartooning?

Crane: Al Capp (who drew the comic strip, "Li'l Abner") and Charles Schulz (Peanuts) were the two I admired most.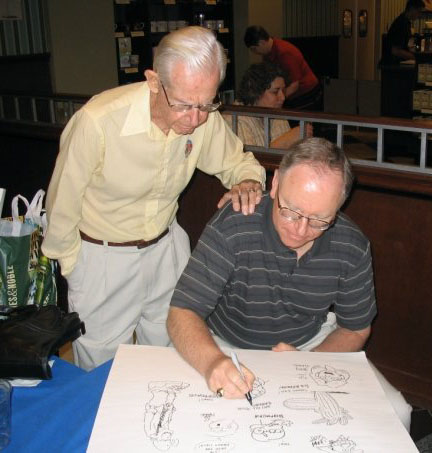 Inkblot: What materials do you use for cartooning, such as pencils, paper, etc?
Crane: I draw on Strathmore vellum finish Bristol paper. I sketch my rough drawing with a 2b pencil, then I ink with Higgins waterproof India ink. I use a Hunt 22b nib for drawing and a Speedball B6 nib for lettering. I erase the pencil lines with a kneaded rubber eraser. Then I scan the artwork in Photoshop.
Inkblot: What is your work schedule like? How many strips do you work on at one time?
Crane: I usually write in the morning and draw in the afternoon. I usually do one or two strips a day.
Inkblot: What are some of the things you do to get ideas?
Crane: Eavesdropping is good for getting ideas. Sometimes if I'm stuck I take a walk or a drive.
Inkblot: Finally, what advice would you give to someone aspiring to be a cartoonist?
Crane: Good luck. It takes talent and perseverance. And you have to believe in yourself and your ability. No one is going to come and offer you an opportunity. You have to go after it yourself with a club.
There you have it, folks, the words of a professional cartoonist! I'd like to thank Mr. Crane for the time he spent to give this interview, and for sharing his wonderful talents with the world! This interview is not available anywhere else; remember, you heard it first at The Inkblot!
A Final Word...
I've personally followed Brian Crane's comic strip since it first came out, and have loved every one! It's one of my all-time favorite comic strips, and I look forward to reading it everyday. If you haven't read "Pickles", then pick up a copy of your local newspaper, because it's probably there. Or, pick up a copy of one of his comic collections, such as "Let's Get Pickled!" from your local bookstore, or at Amazon.com!

That's all the time we have for today. Stay tuned for more Cartoonist interviews coming in future issues! As always, visit CoolCartooning.com for new cartoons, drawing lessons, and information on cartooning!

Keep those pencils sharpened, and Happy Drawing!

Michael Richards
---
www.coolcartooning.com