The Inkblot is your cartooning information resource. From art supplies to drawing lessons to tips from the pros, you'll learn what it takes to be a cartoonist!
If you like this ezine, please tell your friends and family about it. Remember, it's free! If this was forwarded to you by a friend, do me (and yourself) a favor and subscribe! Just click the link below:

Inkblot Subscribe Page


---
Contents:
1. Introduction
2. A Bit About Frank
3. Inteview with Frank Roberson
4. A Final Word
---
Introduction
Welcome to another fabulously interesting issue of The Inkblot, the Number One electronic newsletter about Cartooning!

If this is the first issue of The Inkblot you've read, for the last several issues we've been covering all the basic tools the Cartoonist needs to do their job. We've looked into many different types of tools—such as pens, paper, pencils and erasers—and have identified which ones work best for Cartoonists.

In the last issue, we talked with Brian Crane, the creator of the internationally syndicated comic strip, "Pickles". This was a marvelous issue, filled with lots of info and advice from a professional cartoonist, so if you missed it, please check it out! You can it for free, along with other issue on The Inkblot Back Issues page! Just visit https://www.coolcartooning.com/back_issues.html.
Interview
In this issue, we feature an interview with cartoonist Frank Roberson. Frank is a rising star in the cartooning world, and is the talent behind a comic strip called, "Been There". His strip tells the story of young Stan Lovely and his girlfriend Judy, and all the hilarious circumstances that happen as they try to face life together. Stan is unorganized, crazy about sports, and clueless when it comes to relationships. His fears of both success and marriage keep him from making any big commitments, but his stubborn nature drives him forward.
Judy is just the opposite of Stan; organized, loyal, and motherly, she longs for marriage with Stan, but finds herself constantly competing for Stan's attention with Gracie, his beloved bloodhound. Robert is Stan's best friend, former roommate, and golf partner. He's a typical know-it-all, but is always questionable, and creates issues with Judy when Stan follows it.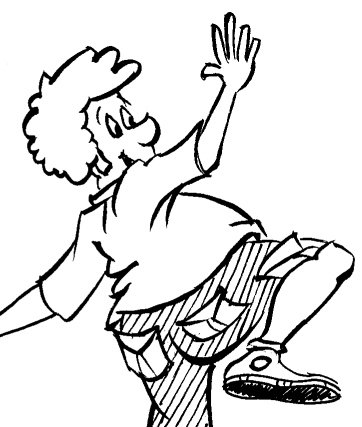 The charm of this comic strip is the wit and humor with which it pokes fun at everyday life. People from all walks of life are sure to find something to relate to here, and assert that they, too, have "Been There".
Frank's strip is not yet syndicated, but it's only a matter of time! For more information about "Been There", visit Frank Roberson's Facebook page at www.facebook.com


Interview with Frank Roberson
Anyway, here's the interview:

Inkblot: How did you get started in cartooning?

Roberson: I started drawing when I was a kid. I remember way back to 5th grade drawing Star Wars, Pacman and stuff like that. I doodled everywhere and anytime. The notes past around in class were drawings instead of words, teacher couldn't read pictures to the entire class. Of course that didn't get me out of trouble…

Inkblot: Do you draw cartoons as a hobby, or as a profession?

Roberson: I draw for money but it isn't my fulltime job right now, getting closer though.

Inkblot: What tools do you use for cartooning?

Roberson: Boy the tools question… I have tried every tool possible to get where I am at now. I would encourage anyone who is dreaming of doing this to try everything so you get it out of your system and get on with drawing. After years of messing with everything I ended up with the following;

-I draw the lines in pencil with a light blue Prismacolor Col-erase pencil or .007 HB lead mechanical pencil I have drawn with for more than 20 years. -I use a Sanford peel away eraser and a "Design" kneaded eraser. -the lines of the strip for the characters are from a brush, Windsor-Newton Series 7 #2 size, the detail and smaller areas are inked with a Hunt 513 EF or a Gillott 170 nib. - I use Strathmore vellum Bristol Board. I draw my strips pretty big so I use the big pad. -I draw on a drafting table and the surface is 100% light table. it was in a drafting department of a utility company a friend worked for. It is big and bulky but works out great. No more little plug in light boxes, yeah! -the tool that can't be overlooked for anyone starting out especially is an Ames Lettering Guide to help with spacing on your lettering.

Inkblot: How long does it take you to draw a typical cartoon?

Roberson: The time to draw a strip really varies because I usually write a ton of ideas and hit the drawing table after that but once I start sketching the idea in thumbnails for the set up and where I want everything to final is a couple hours if I don't answer the phone.

Inkblot: How many cartoons do you work on at one time?
Roberson: Sometimes I work on two at a time especially if they relate to each other. Anymore than that mistakes can happen. I prefer one at a time. In a perfect world I do one in the morning take time for lunch then do another in the afternoon.
Inkblot: Who are some cartoonists who influenced you?
Roberson: When I think of cartoonists who have influenced me automatically I think of the guys that have helped me in my quest to get "Been There" syndicated. Brian Crane has been a sounding board and influence for a long time now. He gave me advice back when my comic strip was really, really bad. He taught me the basics of how to draw a strip, how he does it, along with direction on areas that needed improvement. I met Brian in Reno where I used live until last year. I have always believed that if you want to be the best at something you should learn from the best. You want to shoot 80 as a golfer, go take lessons from someone who shoots in the 80's. If you want to be successful with a comic strip it makes sense to talk to someone who is successful and syndicated. Brian is a great guy and has been very generous with his time to help guide me along and I appreciate him very much. I certainly would not have been able to get where I am now with the strip without his help. I was lucky to have met him and honored to work with him. The other person who has influenced me is Ray Billingsley. We have not work with each other very long but his impact on the strip will change the way it is written for sure. He helped open the flood gates of writing a strip but also a sustainable strip. Writing is the key to a successful strip and if you can write in a way that ideas come to you instead of sitting down with a black page and trying to find one you will certainly improve the quality of the strip.
Inkblot: What are some of the ways you currently use to promote your cartoons?
Roberson: I am not syndicated yet but I am close I think, I can smell it. Of course that could be the fear inside I will feel when it hits me that everyday I have to have a comic strip done. I just started using Facebook to promote my strip, to get feedback so I know if I am on the right track. I donate cartoons to auctions or non-profits for kids like the Boys and Girls Club.
Inkblot:How did you come up with the idea for your strip?
Roberson: Well, my strip is really a look inside my real life world. Not particularly at the current time but at some point in my life what you see is happening or has happened. If you look at the world around you and can see it as if you are a movie director, I have no doubt anyone can find an area that would make a good strip. The characters personalities are pretty close to real. The character Robert is actually a former roommate of 7 years in personality but is drawn from a guy I saw in a Wal-mart one day.
Inkblot: What are some of the methods you use for coming up with ideas?
Roberson: I carry a little notebook in my back pocket to write down ideas, and they come around all the time. People I am with will comment, "oh no! the notebook is out, what did we do". I also have time set aside to visit my local Starbucks and I fill up those composition notebooks with ideas, I also have it on my night stand every night. Quick tip though if you plan to have your notepad on your nightstand, keep a flashlight handy for the late night ideas or you will not be able to read them in the morning.
Inkblot: What is some advice you would give to aspiring cartoonists?
Roberson: My advice to aspiring cartoonist is practice with the tools to find what works for you, figure out a comfortable size for you to draw your strip, write everyday and practice.
And there you have it, friends, the words of a hard-working cartoonist! I'd like to thank Mr. Roberson for the time he spent in this interview, and I wish him every success. Remember, this interview can't be found anywhere else. You heard it first in The Inkblot!

That's all the time we have for today. Next issue, we'll continue our look at how to get ideas for your cartoons, and get those creative juices flowing! After all, creative ideas are at the heart of every successful cartoon.
Until then,
Happy Drawing!
Michael Richards

---
www.coolcartooning.com