Cartooning and Me
Hello there! Thanks for visiting CoolCartooning.com. My name is Michael Richards, and cartooning is my passion. I created this website to share my love of cartoons with you, with the help of Sitebuilder, or SBI! To learn more about SBI! click here.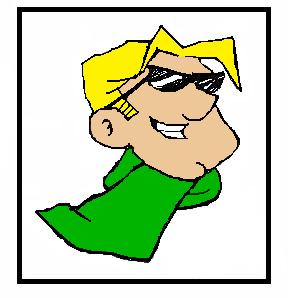 I've been actively drawing cartoons for more than 30 years. Ever since I was a kid, I've been fascinated with art. I've always been extremely shy, and so for me, art was a way to express my feelings in ways I wasn't able to do publicly.
Over the years I've been a painter, a sculptor, model maker, portrait artist…but my favorite form of art has always been cartooning. A cartoon can be made with nothing more than a scrap of paper and a pencil. Cartooning is very flexible and versatile; it can be as loose or as complex as you want. And every cartoonist has a unique style, which comes from that artist's own unique personality.
With cartoons, I could create anything; the worlds and characters that flowed from my pen were limited only by my own wild imagination. Other kids would be out playing football, soccer, or watching TV, but I could always been found in my room or at the kitchen table, drawing cartoons. Cartooning was always the perfect escape; I would get lost for hours in my own paper-and-ink worlds.
This did not end with childhood. I remain a cartoon fanatic to this day. Even today, when I have spare time, or when I am stressed, angry or frustrated, I can be found scribbling away with a pencil or a pen, drawing a cartoon a comic book page, or just abstract doodles. Sometimes my tendency to draw would get me into trouble, especially in school. Often I would be caught drawing silly faces instead of listening to my teacher, or I wouldn't hear my mom calling me, and find myself in the corner!
Even when I entered adulthood, cartoons were permanently engrained in my blood! Anyone who knows me also knows that I love drawing cartoons. Some of my favorite TV shows and movies are cartoons. My wife often says she considers me just one of the kids!
Even though I've been drawing for ages, the idea of creating a website about cartooning didn't come to me until the summer of 2008. I love technology and all things digital, but for most of my life I've been in the "starving artist" category. I'm quite used to not being able to afford much, and I'd always thought creating a website would cost too much money. That was before I'd heard about SBI!
My wife actually discovered SBI! online, and after researching the company, told me about how exciting it is. SBI! takes the guesswork out of web-building; they give you all the tools and information you need to allow you to create fabulous websites. The best part is, it's affordable. Not only does SBI! help you share your passion with others, they can help you turn it into a business! To find out more about how SBI! can help you, click here.

Now with CoolCartooning.com up and running, I'm drawing more than ever. Since various health problems limit my activity, I've had more time to devote to cartoons than I've had since I was a kid. I draw every day, developing ideas for the Daily Giggle page, and creating fun and easy drawing tutorials for you! I've never had more fun!
Although I draw cartoons primarily, I am still involved in many other art forms. To see some of my other work, visit my gallery at DeviantArt. You can even create your own DeviantArt gallery for free!
I hope you enjoy my website. Feel free to browse and surf, laugh at my Giggle cartoons and learn from the lessons. While you're at it, you can also sign up for my free electronic newsletter, The Inkblot! About once a month I send a new issue directly to your email, filled with product reviews, lessons, tips and tricks, and interviews with professional cartoonists! Your email address is safe with me; I never SPAM, and will never use your information for any other purpose. To sign up for The Inkblot, click here.

Remember, anyone can be a cartoonist. All you need (besides pencil and paper) is faith in yourself, and the determination to work hard. Every cartoonist out there had to learn how to draw; nobody is born with it! With practice, you can do anything you put your mind to!
And, as always, happy drawing!


If you love this topic and have enjoyed my site, you might be interested to know that I created it using a program called Solo Build It! It gives you all the tools, training and support in one package and teaches you everything there is to know about ebusiness. Even though I used Solo Build It! and know that the company is honest, a group of people have gathered together to try to convince people that it doesn't work. Nothing could be further from the truth. It was researched and found that this certain group had ulterior motives that included making up stories to make Solo Build It! look bad. If you've run into this, I want you to know that Solo Build It! does what it says it does and you need to read the other side of the story. You can find it here: SiteSell
---
Click here to return to the homepage